Wednesday Confessions
Welcome to my first link-up with other bloggers, hooray! What better way to make some new internet-friends than to reveal some juicy secrets about yourself. This "Hump Day Confessions" link-up is hosted by Melissa of Making Melissa, so make sure you head on over to her blog to check out some more mid-week confessions. Just click on this handy little button: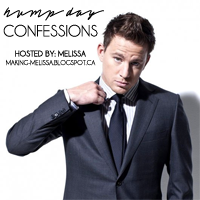 Now here we go with my confessions:
I've realized this week that I'm extremely impatient. I hate the suspense of surprises. When someone tells me they have good news to share I want to hear it right away. I want to submit my applications for school or grants or jobs and get a response within the next 24 hours. That's reasonable right?
I've been "going to go to the gym tomorrow" for about six weeks. I have no excuse. Except that I actually am really busy. But that's what everyone who skips the gym says.
I've been driving for eight years and I'm still kind of scared to drive on the freeway. I don't know why. I still drive on it whenever I have to, but it kind of freaks me out that all these cars are going so fast and it's so easy just to drift into a guardrail... On-Ramps are the bane of my existence. No problem driving anywhere else though, bring it on!
I buy fruit out of season. I was raised never to do this because it's terrible for the environment. Eating locally as much as possible reduces greenhouse gas emissions, saves fossil fuels, and actually means that the fruit you're eating is healthier for you because it's allowed to grow naturally and doesn't have to ripen off the vine in the back of a truck. When I was a kid, strawberries were something you looked forward to eating all year until June finally came and you could devour as many as possible. Apparently I no longer have any self-restraint and I justify it by telling myself it's healthy to eat as much fruit as you can in winter, even if it comes from 3000 miles away.
I think I've forgotten how to wear high heels. I used to wear them all the time and then I went to theatre-school and ran around barefoot in yoga pants pretending to be a radish for four years. Now I wear wedges and Chelsea boots and little ankle boots with short, sort of sturdy, heels. My Michael Kors pumps and the heels I bought in Paris spend all their time in my closet. Somewhere along the way I stopped caring about my personal style. Maybe it has something to do with being forced into yoga pants and ponytails for four years, or maybe it's because my work requires a pretty strict dress code of black t-shirts and flats. Either way, as soon as the snow melts I'm bringing back the heels. I'll be the girl stumbling around like a newborn giraffe, trying not to trip in the streetcar tracks.
... So now you know a little bit more about me. Thanks for stopping by and have a Happy Wednesday!